Quality
We are proud to be able to offer our buyers the finest semi-precious, certified gemstones and the highest quality products on the market today.
Since our items are offered for women's and men's health, it is extremely important to us that there is no compromise on quality.
Today, you can purchase all kinds of yoni eggs, jade eggs, yoni wands online, but there is no way of telling where these materials came from, what quality they are, and if the stones are even what they say they are – there are plenty of fake, low-quality products on the market.
We pride ourselves on sourcing only top quality, certified gemstones from reputable, ethical sources to be able to offer these to the UK & European market. Our products may cost a little more than those found on larger retails sites: this is because they are of a higher quality.
We provide extensive instructions for care and use with all of our products to help our customers get the most out of our products.
Our string is 100% natural, plastic-free and waxed with candillia, a wax extracted from the leaves and stems of the candelilla bush.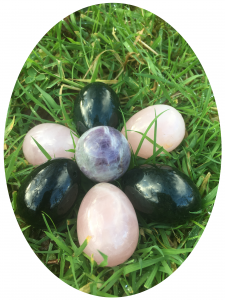 Certification
All of our yoni eggs & jade eggs are certified by the Gemological Institute of America (GIA) – the leading world authority on precious & semi-precious stones, diamonds, gemstones and pearls. The GIA is a non-profit, public benefit institution and has provided knowledge, education and standards on gemstones since 1931.
This certification provides reassurance for our customers that the yoni eggs they buy from us have not been heated, dyed or altered in any way. These gemstones are pure, authentic and safe.
One piece of each stone/batch is been tested for authenticity. You can view each certificate in the product picture section of each item. If you want to verify our certificates with GIA, go to www.GIA.edu and enter the identification number of each certificate in the "report check" search bar.
We do not include certificates with each order in order to save on paper and reduce unnecessary waste. The certificates can be viewed online  and you are free to print them for your records if you need them.
All of our yoni wands are carved from the same batches as the yoni eggs. Whilst we do not have certificates for each shape of product, the certificates for the yoni egg made from the same material as the wand confirms the quality of that wand.
Ethics
All of our gemstones are ethically sourced and none of them are from conflict zones or considered conflict minerals. Our suppliers work with various production partners who work directly with the mines so we are able to trace our supply chain. The stones are sourced in Brazil, India, Mexico, Guatemala, China, South Africa and Australia – the individual product page for each product shows the country from which the gemstone is sourced.
The mines that our suppliers and their partners work with have ethical practices which include labor, working conditions and environmental factors.  There are safety standards that are in place for the miners and production workers, as well as, fair pay rates that fall above the guidelines with labor laws.